Turkish Citizenship by Investment
Elmaslar Real Estate Advisors
You Want Citizenship Advisory You Can Count On
Everything You Need to Know About Turkish Citizenship Through Property Investment
Are you hoping to acquire Turkish citizenship for you and your family in the near future? Are you wondering about the process and trying to work out which is the best method for you to pursue? If so, this article is exactly what you're looking for, as we introduce you to everything you need to know about getting Turkish citizenship by investing $400,000 in property in 2021. 
We will take you through the advantages of becoming a Turkish citizen before explaining the process in detail, before ending by answering some FAQs that will help direct your research and will hopefully make the process easier for you. Let's begin by looking at why becoming a Turkish citizen through property investment is advantageous. 
Gaining Turkish citizenship as an investment immigrant is easier than you might expect. You can get a Turkish passport and enjoy the benefits that come with it through a property investment of $400,000. Turkey offers one of the most affordable passport schemes, allowing you to get all the benefits of Turkish citizenship by investing in a property. An estimated 13,325 applicants were approved through the citizenship by investment program. We're telling you everything that you need to know about the citizenship program, from the benefits you can enjoy to the practicalities of securing your second passport.
Benefits of Turkish Citizenship
Most people look at this citizenship program as a way of getting a second passport, but the benefits of Turkish citizenship are far-reaching. Even during the global pandemic, people are investing in Turkish properties to gain second passports. Turkey's investor citizenship program is the most popular in the world. It out-performs everywhere from the United States to Australia and Thailand. 
Turkey has one of the best national healthcare systems in the world and is ranked 3rd for medical tourism destinations. If you're planning on moving to Turkey long-term or in the future, the government provides pension programs for citizens. Turkey is the perfect location between East and West to establish any business, with international links and government schemes to encourage investment and SME businesses.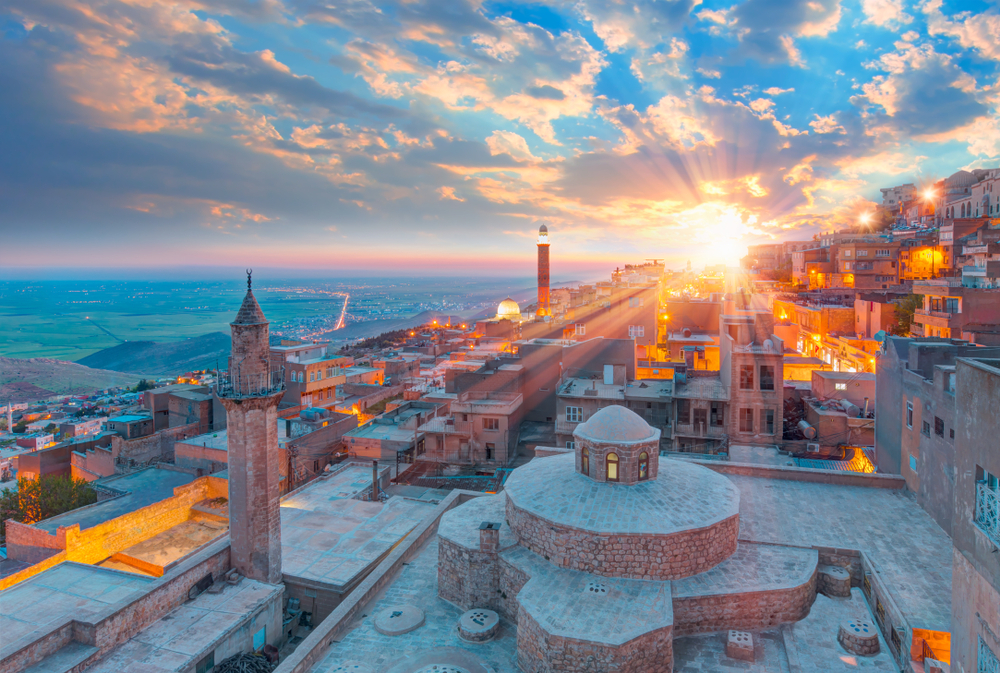 One reason people opt for Turkish nationality by investment is that it gives access to 170+ universities and international schools. These institutions have a proven track record of sending pupils to some of the top Ivy League colleges in the world. The country offers both free education for children under 18 and university reimbursement plans for citizens. Along with primary school education being free, students don't need to pay for books or other equipment until they're at university. Most people are very happy with their property investment in Turkey based on a survey and have selected Turkey for a variety of reasons as presented below.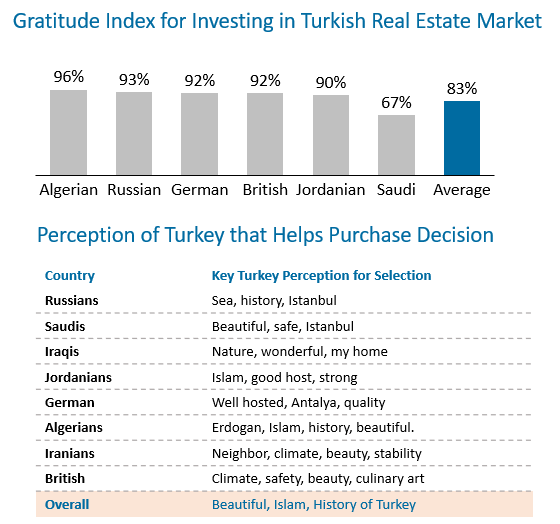 By buying a passport for Turkey, you'll have the ability to apply for residency in both the UK and the US without being subjected to quote limitations. Your Turkish passport will open doors for you around the world, including visa-free travel to 114 countries. With its strategic location and convenient travel options to Africa, Asia, and Europe, you'll have the world on your doorstep.
Once you have your Turkish citizenship, you can hand it down through the generations to your children and grandchildren. Children under the age of 18 can get a Turkish passport through your application. If your child is over the age of 18 and has a disability, they'll also qualify under your application.
Here is a summary of benefits of Turkish passport:
Free education for your children.

Full medical assistance for all family members.

Access to available pension programs.

No minimum residence requirements in Turkey.

Visa-free travel to more than 110 countries.

Ability to collect rental returns on your investment.

Ability to apply for a Turkish passport within 3-4 months.
As well as having the opportunity to live hassle-free in the fabulous country of Turkey, these benefits make acquiring Turkish citizenship for you and your family an extremely attractive prospect. Let's now look at the process and what's involved in getting your Turkish citizenship through investment. 
How to Get Turkish Citizenship
If you've decided to get a second passport by gaining Turkey citizenship by investment, you might be wondering how the process works. We've broken it down step-by-step to show you how easy it is to take advantage of Turkey's citizenship program and how it's the cheapest passport to buy. 
You need to start by searching for a property in Turkey with a value of over $400,000. You'll need an estate agent to help you with this, especially if you're not able to visit Turkey yourself. Elmaslar Real Estate Advisors can help with this property selection, advice, and acquisition. We provide virtual or in-person yours to properties and offer the best prices due to our close relationship with our preferred developer partner.

Once you've chosen your property to buy to get your turkey citizenship by property investment, you need to put down a 10% deposit. You can choose to pay a larger deposit, but the minimum is 10% of the property's value.

After paying your deposit, you'll need to pay off the remainder of your purchase price soon after.

Your title deed will be available 2-4 weeks after you've made your final payment on your new property. It's worth noting that you'll need to acquire mandatory earthquake insurance for your property at this stage. We will help you complete these requirements remotely.
Once you've secured and paid for your property, you can move on to the next stage of getting your Turkish passport by investment.
You'll need to apply for a residence permit, which requires several pieces of personal documentation. You'll need to submit an eligibility certificate and both the original and certified copies of your passport. Your application will also require biometric photos of yourself and proof of valid health insurance. 

After your application is received, your residency permit should be issued within 7 business days.
When your Turkish residence permit is secure, the next step towards your Turkish passport is to apply for Turkish citizenship. The main challenge with this step is the amount of documentation you'll have to produce. You'll need to provide your current residency permit and personal documentation, depending on your circumstances.
If you're divorced or separated with children, you'll need permission from your former spouse to grant any children Turkish citizenship. You will have to support documentation proving your marital status, along with your birth certificate and any relevant family statement documents.
This approval stage is the longest step in the process to get dual citizenship. It typically takes between 3 to 4 months after your application submission for you to get approval. During this time, there will be a national security study carried out on your application. There will not be any background checks, including your personal funds, conducted during this time.
After you've received notification that you've succeeded in your citizenship application, you'll be able to apply for your Turkish passport. To complete the process, you'll need to travel to Turkey to complete a fingerprint scan. It's worth checking with the Turkish consulate in your home country, as they may be able to help you with this process.
When you get a Turkish passport by investment, there's no requirement for you to reside or even visit Turkey after securing your citizenship.
Turkish Property Selection for Citizenship
It is recommended to purchase a new property from a developer for citizenship application. This ensures that sales price matches the price on the title. In the secondhand market, there could be discrepancies which would cause issues. The good news is there are many great options from property developers that provide modern, smart properties at a good price that you can get value appreciation on your investment. There is also a independent valuation requirement which ensures that your purchase price is in line with the market prices.  
As the most trusted developer representative in Turkey, we offer many attractive properties for you to select from that are qualified for citizenship and offer the best investment at prime locations. Contact us to learn more about one of the properties we offer at the best locations as represeted at the Istanbul map below.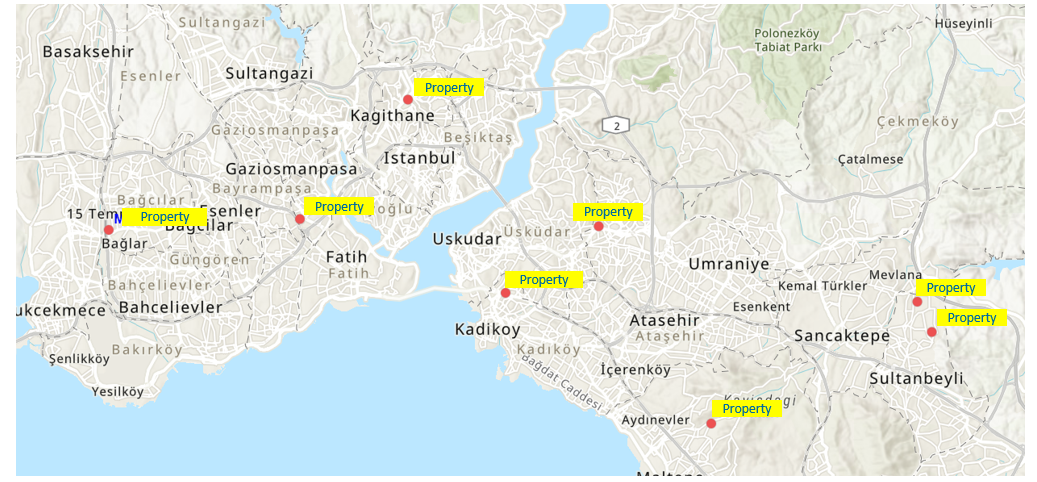 When you're searching for a property to allow you to migrate to Turkey, there are a few popular areas you can look at. Although you can buy property in Turkey and get citizenship, it's a smart investment. The average house price in Turkey goes up by an estimated 11% every year. Turkey also has one of the lowest property tax rates, at just 0.1%. Istanbul is the most popular location for property sales, with an almost 20% share of house sales. If you don't intend to permanently reside in Turkey, you can put your property on the rental market as a passive stream of income.
There are six locations in Turkey that you should consider when choosing where to purchase your investment property.
Kosuyolu is a district in Istanbul, located on the Anatolian side of the city. Byzantine, Roman, and Greek influences inspired the local architecture. This cosmopolitan area sits on the Asian side of Istanbul and is conveniently located near Bosporus. Kosuyolu, located within the Kadikoy region, is a blend of commercial and residential properties. The area has several prestigious high schools, including Kadikoy Anadolu Lisesi and Saint-Joseph French High School.
Kagithane is a region of Istanbul that was once predominately working-class before evolving into a popular real estate investment area. It sits on the European side of Istanbul and is developing into a contemporary city. Kagithane is a great location if you're looking to purchase a property that you can sell in the future or put on the rental market.
Maltepe is on the Asian side of Istanbul, right next to Kadikoy. This region is a popular choice for young newlyweds or families with young children. Maltepe is famous for its coastline and stunning view of the Princes' Islands. 
One of the most famous locations in Istanbul is Camlica, home to the Grand Camlica Mosque. Valued at over $110 million, the mosque has an art gallery and library that you can take advantage of as a resident. From Camlica Hill, you can enjoy the beautiful panoramic views of Istanbul. As a popular tourist area, Camlica has everything you'll need right on your doorstep, from cafes to restaurants and public gardens. Camlica Hill is one of the highest areas in Istanbul, sitting more than 260 meters above the sea. It's the perfect location for anyone looking to use their Turkish property during the summer months.
Sultanbeyli is on the outskirts of Istanbul, sitting on the Asian side of the region. It's one of the cheaper areas in the city to purchase property, making it a suitable choice if you don't intend to live in Turkey after getting your second passport.
If you want to purchase a property outside of Istanbul, Antalya is a great area to consider. It's a popular tourist destination and the fifth-most populous city in the country. The city is on the Mediterranean coast and has a population of over one million people. Antalya is a popular location for any investor immigrant.
Elmaslar Real Estate has property options in all of these locations.
Frequently Asked Questions
What does your company do and why are you different from other companies? 
Elmaslar Real Estate represents international sales of one of the largest developers in Turkey and we are part of the developer organization. Our developer has won the most trusted developer award in the last two years and it is one of the superbrands in Turkey and has become a household name. They have many properties in the most prime locations in Istanbul and Antalya. Due to our close family relationship with the developers, we get you the best prices in the market and prioritize your transaction and citizesnhip application with the developer. 
We are different because we represent only one developer that has over ten projects and help you all the way from property selection, acquisition, citizenship application and rental management. We completed 150 passport applications in Turkey in the last two years and achieved 100% success rate. We are the #1 company in the market for Turkish citizenship applications in Turkey. Our commitment to trusted relationships and best properties and service for our customers resulted in many customers through partners and word of mouth. 
Whether you're already looking for a house for sale in Turkey to get your 2nd passport or if you're considering your options, you've no doubt got a myriad of questions. We've pulled together the most common questions about how to get a Turkish passport through investment to provide you with all the information you need.
How can I get a second passport by investing in Turkey?
While there are six different avenues for gaining Turkish citizenship, the most practical option is to purchase a property valued at over $400,000. This citizenship program is more streamlined, and you can have your second passport within a few months.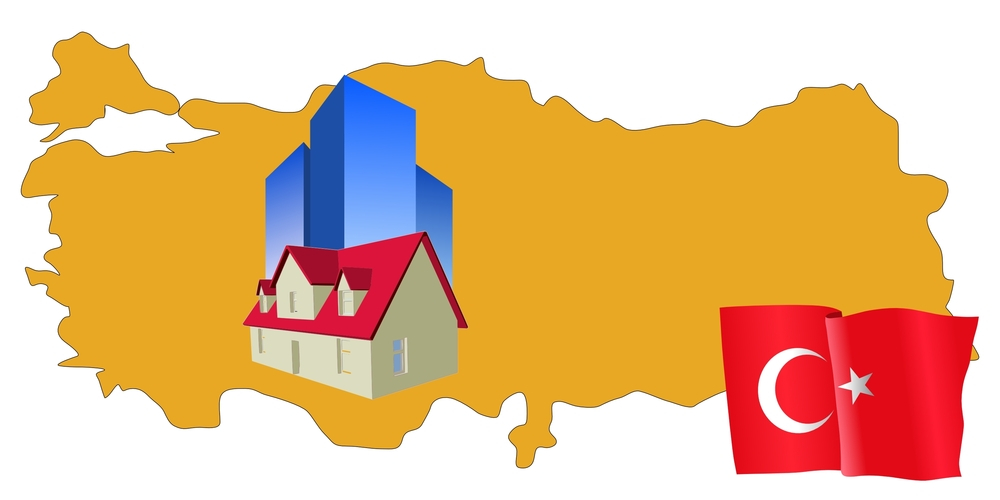 Where can I travel with a Turkish passport?
One reason why people are attracted to buying Turkish nationality is that it opens the door to visa-free travel across the world. 115 countries offer visa-free travel for Turkish citizens, making it an ideal choice for anyone who regularly travels internationally for business. 
Are any countries excluded from Turkey's citizenship program?
No countries are excluded from the Turkey investment program. All you need to do is purchase a property valued at $400,000 or above. You can also reach the $400,000 threshold by purchasing multiple properties with that combined value.
Can my children also get Turkish citizenship by investment?
Your spouse and any children under the age of 18 can also get a Turkish passport when through this 'residency by investment' program. Any dependent over the age of 18 will only gain Turkish citizenship through your application if they are disabled, requiring continued care from their parents.
How much does it cost to get Turkish citizenship?
An amendment to the Turkish Citizenship Law in 2018 reduced the financial burden of the citizenship program. The easiest way of gaining a second passport is by purchasing a property worth at least $400,000 in Turkey. There are also lawyer fees of ~$5,000 for property acquisition and citizenship application and closing costs of 2-4% of property purchase price. If you work with us, you will not pay any buyer agent commissions to Elmaslar Real Estate.
Can I make instalment payments for the purchase price for citizenship?
You will be eligible for citizenship application after $400,000 payment is passed from the investor to developer. For example, if you pay $100,000 and want to pay the rest in instalments over a year, you must wait until after you complete the payments to apply. For this reason, it is recommended to pay the full amount to become a citizen quickly.
Do I have to visit Turkey to get Turkish nationality?
No. The Turkish citizenship program is continuously evolving, making it easier for foreign nationals to go through the Turkish immigration system without needing to be in the country. Your local Turkish embassy may be able to help you do the fingerprint portion of your application, meaning you won't have to visit Turkey itself.
Do I have to give up my existing citizenship to get a Turkish passport?
Your ability to get dual citizenship will depend on the laws within your country. Turkey allows for dual citizenship, but not every country is the same. It's worth double-checking if your country allows you to carry a second passport before starting the process to get your Turkish residency by investment. Several countries that impose restrictions on dual citizenships include China, India, and Saudi Arabia. We recommend always doing your research before you start looking at investment properties in Turkey.
Does Turkey offer donation option instead of property investment?
No, Turkey program has no donation options. All your money is invested in a real asset and you can sell the property after three years. Property is also an attractive investment in Turkey. Prices have increased an average of 15% in the last ten years
House Pricing Index in Turkey has increased from 50 in 2011 to 160 in 2021, a 220% increase in 10 years, corresponding to ~15% increase in prices every year based on Central Bank of Turkey pricing index.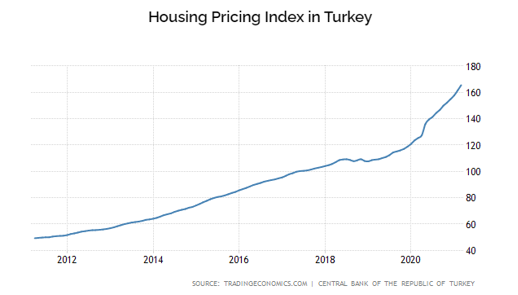 How long does the citizenship application process usually take?
Typically, within 2-3 months of your property purchase assuming you submit your application quickly by working with responsive, trusted lawyers and that there are no delays or any issues with your property deed or appraisal. 
Once the lawyers submit your application, you can expect your passport within 1 month. While you're waiting for your citizenship to be granted, you and your family will be issued a temporary residence permit. Check with your lawyer for the latest waiting times. 
Turkey is known for being one of the fastest countries in terms of providing your passport once all the documentation is correct. 
Do I have to buy a house, or can I purchase any type of property? 
While it's possible to purchase a house for you and your family to live in, you can also buy other types of real estate, including commercial properties, office buildings, holiday homes or even time share that equate to a minimum of $400,000.
Can I buy multiple properties of less than $400,000? 
Yes. So long as the total value of the combined properties that you've purchased is more than $400,000, you can buy several properties to then be applicable for the citizenship application process.
How many houses are sold in Turkey in a year to foreigners? 
Based on Turkish statistical institute, 30,000 international people purchase property every year in Turkey from almost all nationalities.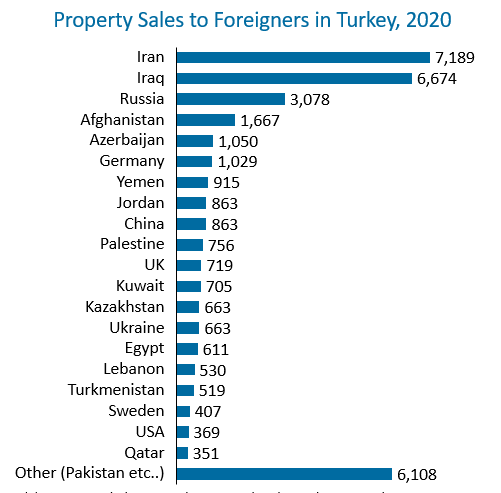 Can my whole family get citizenship if only one person applies? 
Yes. Your whole family can acquire Turkish citizenship through the property investment scheme, providing your kid/s are under the age of eighteen by the time of the application. If your children are over the age of eighteen, they are only eligible for Turkish citizenship under your application if they are disabled and require full-time care. Other option is to purchase two units of properties valued over $400,000 and use one of them towards the application of your daughter or son over 18 years old. 
My child will turn 18 this year, can I still get citizenship for them? 
Yes, as long as you submit your application before they turn 18. If you want to confirm, contact us with their birth date and our lawyers will check their eligibility for you. 
Can a developer buy back the property for citizenship? 
Based upon new legislation that was passed for 2021, developer buybacks are no longer permitted as part of the property investment process for citizenship.
What are the cost components for the application? 
As you might expect, there are several cost components that make up the application. These include but are not restricted to the following:
Lawyer fees for property purchase: this cost is variable, depending on the rates charged by the law firm you use, typically around $5,000-6,000. This price is per family, not per person in the family.

Citizenship application fees. This is usually somewhere in the region of $1,000 for the whole process.

Closing costs, including real estate valuation report, taxes and associated legal fees, notary and public translator fees, agent's service fee, attorney's fee, and any travel and accommodation fees you have incurred in order to complete the purchase of your property. It is about 3-4% of the property value.
Can I sell the property after getting my citizenship?
You can sell the property after 3 years from the date of the purchase. We can help you sell your property after 3 years. 
How much rental income can I expect?
You can expect 2-3% of rental income every year based on the location of the property based on market rates. If any developer is offering more, they are likely charging more than the value of the property when you purchase. 
Do you guarantee rental income?
We don't; but we help you with property management and renting the property for a service fee. Since all our properties are in prime locations, it is easy to rent them out in market rates.
Some developers charge more for the sale price to give you rental income guarantee. This scheme is frowned upon and investigated by government officials.
We choose to provide you the best price and more discount at the time of the property purchase rather than charging more and then providing rental guarantees. If you end up buying the property at an inflated price to get a rental income, you risk your application being rejected since market appraisal price will come at a much lower valuation and you will not qualify for citizenships.  Contact us to learn more about your options to increase your chances of getting your citizenship application approved and we will connect your with our local, experienced lawyers. Our citizenship application approval rate is 100%. 
Should I buy a unit that is in development or a developed one?
You will have more options for properties in development and it will be easier for citizenship application. We estimate that 90% of properties used for Turkish citizenship applications are new properties that are in development due to the issues with buying second hand property and having difficulty with citizenship.
Choose a trusted developer and the units that will complete within a year or so. Most new properties in Turkey are sold before the time it is complete since sales start at the time of development. The inventory for completed units will be limited if the development is an attractive one and they will be more expensive with less scope for price appreciation. If the development is over-priced and is not attractive, there might be many completed units; but this means the development was not attractive for the local market and you will not be making the best investment. We have some completed new units that come to market if the owners are wanting to sell; but the inventory is limited. We offer both completed and in-development properties; but most of our sales have been properties that are in development and will complete in the next year.
Can I get a second-hand property for citizenship application? 
In theory, yes. While you can buy a second-hand property to apply for citizenship, it's normally extremely difficult to get the value of the property formally approved. As such, you can expect long delays on your application. This is mainly because second-hand sellers don't wish to write the actual amount of the deed for tax purposes. As such, while they may agree to sell you the home for $400,000, they might only document that the sale went through for $100,000. For this reason, purchasing a brand-new property is much faster and easier to verify.
Can I pay in installments and get citizenship?
In order to apply for citizenship through this route, you will need to have paid at least $400,000 upfront in order to apply. If you purchase a property for $400,000 exactly, you will need to have completed all of the necessary payments on the home before submitting your application.
However, if you have purchased a house for more than $400,000, say $1,000,000, for instance, it's possible to pay the $400,000 upfront, followed by installments to complete the purchase at a later stage.
What documents do I need for the application? 
In order to complete the application process, you will need to be in possession of the following documents:
Completed investment residence certificate.

Copy of valid passport and its notarized Turkish translation.

Copy of residence permit card [if applicable].

Marriage and birth certificates of all family members to be included in the application.

Passport-sized photographs of the applicant/s.

Purpose report from a certified public accountant which shows the fixed capital investment.
If you work with us, we will connect you with one of the best lawyers for citizenship applications in Turkey
In addition to the $400,000 investment, what are the other requirements for acquiring citizenship through investment? 
The good news for applicants is that the process to acquire citizenship through investment is not an inherently difficult process. However, you will need to meet the following criteria:
You must be over the age of eighteen.

You must never have attempted to enter Turkey illegally.

You must not have any criminal convictions either in Turkey or the country where you have resided for the last twelve months.

In addition to the property purchase, you will have to show that you have sufficient financial resources to cover all of the associated expenses of the application.
Closing remarks
Thanks to this initiative by the Turkish government, applying for Turkish citizenship through investment has never been easier than it is now in 2021. Providing you have made an investment of at least $400,000 in real estate in Turkey since 2018, your application is likely to be approved, providing you meet the other basic requirements that have been articulated in this guide. Given all of the excellent benefits you and your family can enjoy by living and working in Turkey, this citizenship application process represents an excellent opportunity to start your new life in the country.
Enjoy a Lifetime of Turkish Citizenship
Worrying about limited options and unexpected life situations is no fun.
Our proven process and full-service team make it easy and worry-free to get your Turkish citizenship fast.
Relax knowing you've got your citizenship and residency strategy under control. For good.